IDC Films and Media Services
Using form, color, typography, illustration, graphic design, photography, film, and animation to inform and entertain.
Visual communication in part or whole relies on vision, the idea that a visual message has the power to inform, educate, or persuade a person or audience.
Our Road to Kosovo chronicles the struggle of an ethnic Albanian family during the conflict in Kosovo. Our Road to Kosovo is a personal story of tragedy and hope for the Kelmendi family as you learn of their harrowing exodus from Mitrovica, Kosovo and the process of reclamation that these refugees must go through when they return home to find that their once familiar society has become livable only under constant military occupation.
A Film By: James Saldaña and Jeff Norman
CBC (Canadian Public Broadcasting) Radio Interview:
"You can't move on until you forgive and if you never forgive, then conflict never ends and the suffering will always continue. You don't honor people who suffered and died during a conflict by allowing that conflict to continue" – James Saldaña 
Two young Americans stood on the deck of a ferryboat on the Adriatic Sea and watched as lights appeared in the distance, revealing the coastline of Albania. Read more…
---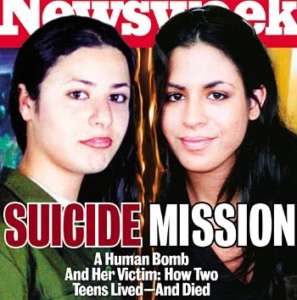 Daughters of Abraham (2004) is the Israeli-Palestinian conflict through the life and death of two teenager girls. The film was later picked up by HBO Films, extended to feature length and broadcast as To Die In Jerusalem (2007).
Producer: Hilla Medalia
Assistant Director: James Saldaña
Cinematographer: Chrissy Mazone
Produced by Medalia, James Saldaña directed the Palestinian portion of Daughters of Abraham (2004) and Chrissy Mazone was the primary cinematographer. We did not participate in the HBO extension of the film but our footage and creative direction were integrated into To Die In Jerusalem (2007).